Protesters pelt a parliamentarian's office with stones in Lebanon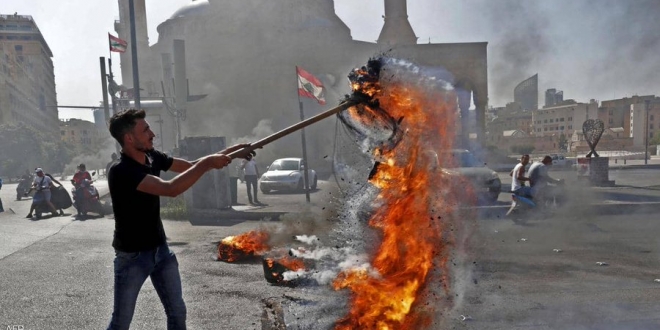 Citizen – Follow
Lebanese An-Nahar reported that protesters threw stones at the office of Parliamentarian Muhammad Kabbara in the hill in Lebanon and smashed a billboard for a money exchange office under his office.
The army intervenes.
A large force of the army came to the vicinity of the house of Representative Kabbara in Tripoli, and an attempt by protesters to storm the outer gate of the house of Representative Faisal Karami, according to the Lebanese An-Nahar.
A large number of demonstrators in the streets of various Lebanese cities blocked major roads, in protest against the deteriorating economic conditions and the depreciation of the Lebanese pound against the dollar.
According to Sky News, the protesters blocked the international roads linking the regions and governorates, before the army repeatedly intervened to open them. Shops witnessed a heavy demand from citizens to buy food to store them, while other shops closed their doors to reduce their losses, in light of the continuous decline of the Lebanese pound.
state of tension:
The situation in Lebanon in recent days has reached an unprecedented level of tension due to the economic, financial and social crises.
The Lebanese currency has lost 90 percent of its value, breaking a record low earlier this month of 15,500 pounds to the dollar on the black market.
Share the news